In "Through the Perilous Fight," Washington Post reporter Steve Vogel does a superb job of bringing this woeful tale to life. He leavens his fast-paced narrative with lively vignettes of the principal participants in this folly.
The Washington Post
"The War of 1812 remains one of the most important and least appreciated events in American history. In these engaging pages, Steve Vogel does much to rectify that, telling the story of a critical episode of the conflict with eloquence and insight."
Jon Meacham, Pulitzer Prize–winning author of Thomas Jefferson: The Art of Power

Steve appears on CBS News Sunday Morning.
Listen to Steve on NPR's All Things Considered.

Steve is featured in The Smithsonian Channel's
"A Star-Spangled Story: Battle For America".
In a rousing account of one of the critical turning points in American history, "Through the Perilous Fight tells the gripping story of the burning of Washington and the improbable last stand at Baltimore that helped save the nation and inspired its National Anthem.
Through The Perilous Fight
In the summer of 1814, the United States of America teetered on the brink of disaster. The war it had declared against Great Britain two years earlier appeared headed toward inglorious American defeat. The young nation's most implacable nemesis, the ruthless British Admiral George Cockburn, launched an invasion of Washington in a daring attempt to decapitate the government and crush the American spirit. The British succeeded spectacularly, burning down most of the city's landmarks—including the White House and the Capitol—and driving President James Madison from the area. As looters ransacked federal buildings and panic gripped the citizens of Washington, beleaguered American forces were forced to regroup for a last-ditch defense of Baltimore. The outcome of that "perilous fight" would help change the outcome of the war—and with it, the fate of the fledgling American republic.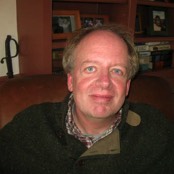 Steve Vogel is the author of Through The Perilous Fight and The Pentagon: A History, both published by Random House. He is a veteran journalist who has written extensively for The Washington Post about military affairs and the treatment of veterans from the wars in Afghanistan and Iraq. His reporting about the war in Afghanistan was part of a package of Washington Post stories selected as a finalist for the 2002 Pulitzer Prize. Vogel covered the September 11, 2001, terrorist attack on the Pentagon, and the building's subsequent reconstruction. Vogel covered the war in Iraq and the first Gulf War, as well as U.S. military operations in Rwanda, Somalia, and the Balkans. A graduate of the College of William and Mary, he received a master's degree in international public policy from Johns Hopkins University's School of Advanced International Studies.