Praise for "Through the Perilous Fight"
"Steve Vogel's "The Perilous Fight" is probably the best piece of military history that I have read or reviewed in the past five years…This well-researched and superbly written history has all the trappings of a good novel."
- Gary Anderson - Special to The Washington Times
In "Through the Perilous Fight," Washington Post reporter Steve Vogel does a superb job of bringing this woeful tale to life. He leavens his fast-paced narrative with lively vignettes of the principal participants in this folly.
- Joyce Appelby - The Washington Post
"The War of 1812 remains one of the most important and least appreciated events in American history. In these engaging pages, Steve Vogel does much to rectify that, telling the story of a critical episode of the conflict with eloquence and insight."
- Jon Meacham, Pulitzer Prize-winning author of "Thomas Jefferson: The Art of Power"
"Before 9/11 was 1814—the year the enemy burned the nation's capital. Steve Vogel gives a splendid account, fast-paced and detailed, of the uncertainty, the peril and the valor of those days."
- Richard Brookhiser, author of "James Madison"
Very fine storytelling, impeccably researched. Through the Perilous Fight brings to life the fraught events of 1814 with compelling and convincing vigor.
- Rick Atkinson, Pulitzer Prize winning author of "An Army at Dawn: The War in North Africa, 1942-1943"
"A swift, vibrant account of the accidents, intricacies and insanities of war."
"Vogel…superbly dramatizes a campaign whose legacy is "The Star-Spangled Banner," both the anthem and the flag for which it stands, today displayed in Washington."
"This is a high academic achievement but it reads so well you will think it is a fast-paced novel. Surely this work will become the premiere source for anyone wanting to know the essential story of the national anthem, and the fascinating tale of how six weeks of war saved the nation."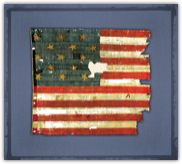 If you would like a signed and personally inscribed copy of Through the Perilous Fight or The Pentagon , please send a check or money order along with a note with the requested inscription and a mailing address for sending the books to the following address:

Steve Vogel
PO Box 301
Barnesville, Md. 20838

Hardcovers of each book are available for $25, and paperback for $15. Include $5 shipping/handling for each hardcover book and $4 for each paperback.